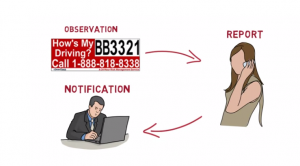 If you ever wondered if you should take the time to report unsafe truck driving behavior, consider the following report on a devastating crash involving nine-vehicles in Chattanooga, Tennessee.
On July 21st, the U.S. Department of Transportation's Federal Motor Carrier Safety Administration (FMCSA) declared a Kentucky-licensed truck driver to be an imminent hazard to public safety. The release continued with additional detail identifying the truck driver, and stated that he was ordered not to operate any commercial motor vehicle in interstate commerce following his involvement in a six fatality crash that occurred in Chattanooga. It was reported that the crash on Interstate 75 resulted in the death of six people and caused six serious injuries.
The FMSCA noted that an ongoing post-crash investigation revealed the driver allegedly falsified his records-of-duty status in the days leading up to the crash. The driver reported that he was off-duty from June 15 until 7:00 a.m. on June 25. But the vehicle tracking system used by his employer, along with other records, indicated otherwise. The FMCSA will continue to assist the National Transportation Safety Board (NTSB), which is leading the investigation into the June 25, 2015, crash.
Reporting unsafe driving behavior is an important responsibility for all drivers. If you see unsafe driving behavior, look for a How's My Driving number on the back of the truck and call to report the offense. If the driving behavior is reckless to the point that danger appears imminent, you should pull over and immediately call 911. DriverCheck is the founder of the vehicle-monitoring industry and remains its premier service provider. Our mission is to save lives by providing the best vehicle monitoring driver training and safety solutions in the industry.