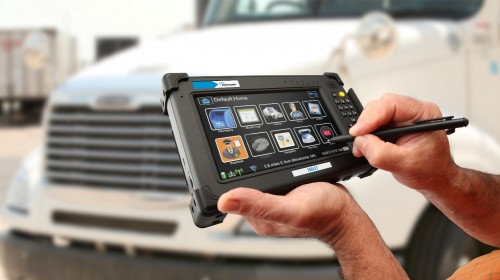 ELD – Electronic Logging Device
Our ELD product will provide you with the tools that you need to become compliant with FMCSA ELD mandate. Our solution was created by truckers for truckers.
ELD – Electronic Logging Device
" Don't wait until the last minute to implement electronic logging devices! Why wait when you can immediately start reaping the benefits of using an ELD device?
A simple installation into your vehicle's diagnostic port and you will be able to automatically record drive time that is compliant with DOT regulations. We supply an 8" tablet with a mobile application that records your driver's logs.
Key Advantages:
•Enhanced and customized inspections
•Log grid clearly shows violations
•Slip seat and team driving capable
•Offline support – disconnected operation
•Automatic retry for loss of connectivity with the ELD
•Two-way integration of portal edits with the device including full edit logging
•Fully integrated portal backend for driver dashboard at home office, feature-rich, fully synchronized with tablet and all HOS product options
•Ability to control tablet settings from the portal, such as disabling driver log edits on the tablet by the driver
•Easy to use with minimal training required
•On-screen documentation to minimize errors and support costs
•Easy to use administration tools for account, vehicle and driver management
•IFTA included in the product price
•Mobile Worker – mobile work orders and job assignments
Some of our optional features include:
•Custom hardware support
•Engine diagnostics and driver behavior
•Enhanced vehicle tracking