The answer is absolutely YES.
Fleet safety is in fact more dependent upon your drivers than your vehicles. They spend thousands of hours on the road each year, and every minute brings new risks from road conditions to other drivers. A vehicle-monitoring program can be extremely cost effective and is easier to incorporate into the business than you might think. Thus, a system like ours can be a phenomenal asset for your company today.
When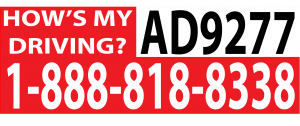 you choose to implement our program you can do the following:
Plan
Regulate which of your vehicles will consist of monitors. You can even create staff roles and design a training structure for your drivers.
Deploy
Once you make these decisions you can then roll out the vehicle monitoring program.
You can even monitor the performance of the program and make the necessary changes that you find applicable.
If you would like to learn more click here for additional information.